Wedding Bands
A wedding ring, a symbol of lifelong love and devotion, is a very special ring indeed and we believe should be individually crafted and wrought just for the recipient.
So choose a hand crafted ring to be your timeless token of love always.
Careful Design Guidance
We can help you design your rings and guide you through every practical consideration to make your vision of your rings a reality. Whether you would like gold, platinum or diamond set rings, we can advise how to ensure they will be blissfully comfortable and resilient enough to withstand the rigours of a lifetime of continuous wear.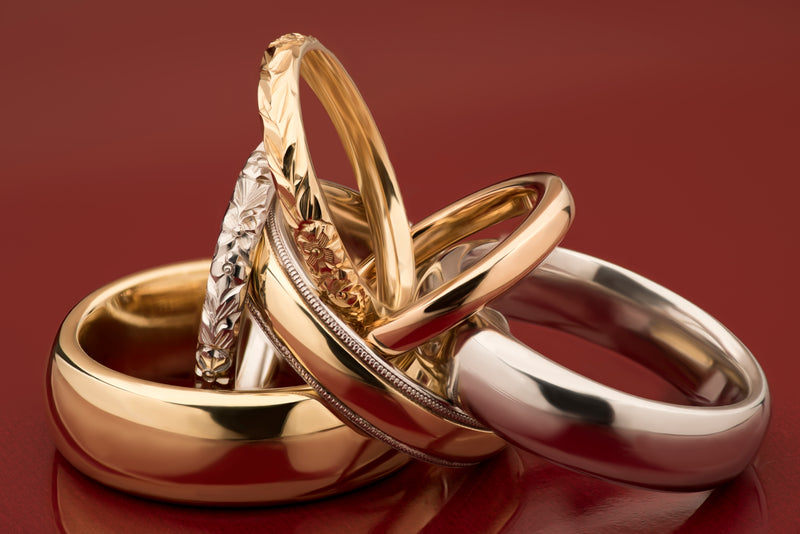 Individually handmade, just for you.
We have made and supplied bespoke wedding rings for over a century, making rings in platinum, and all colours and alloys of gold. 
We can also beautifully hand engrave a personal inscription inside your wedding rings; such as your names, initials, date of your wedding or names of your children.
Please contact us to book your consultation for your wedding rings.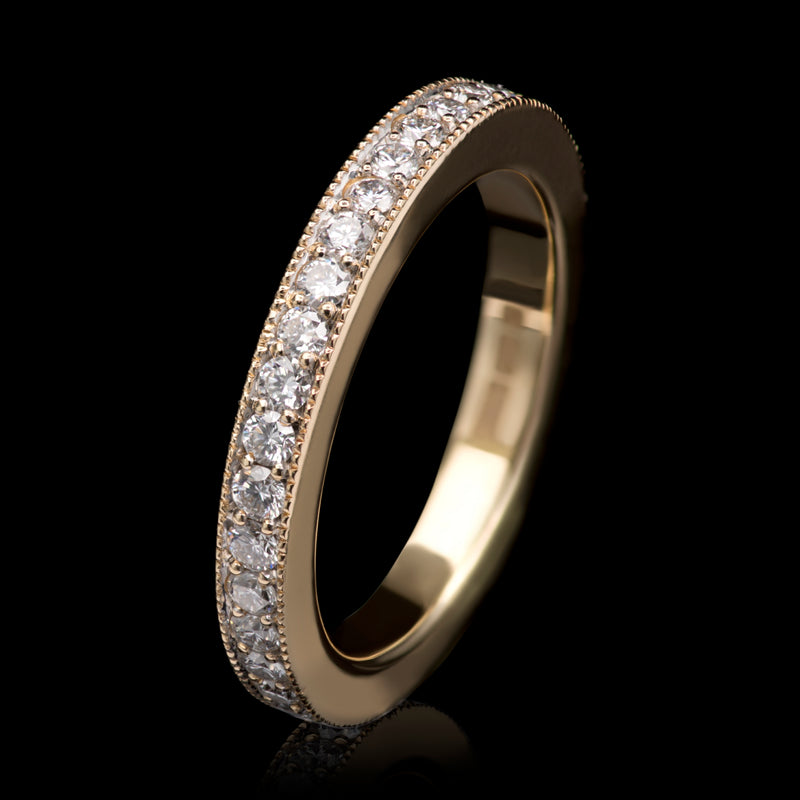 Influence from a Golden Age
The deep fascination and passion our Grandfather held for jewellery from the ancient world has a direct influence on many of the shapes, forms, and proportions of our hand made wedding rings today.
Surely the ultimate test of soundness of function and endurance, having been made in the same way for over three thousand years.
Grandfather's Thoughts
His observation that rings from antiquity often had the most remarkable silky smoothness that imparted a blissfully comfortable feel on the finger. He found that frequently fine gold rings had naturally worn to a subtly curved and rounded internal contour, as pleasing as the smoothest water worn pebble on a beach, or indeed a ring had been originally so carefully crafted as to impart a wonderfully tactile and comfortable internal  shape, either way, it was very apparent that these contours were key the comfort of a ring.
Your Rings
Many couples who visit Cousins for their wedding rings are immediately struck by how beautifully smooth and comfortable our rings feel. 
When you consider that you will wear your ring continuously, it is of the utmost importance that it is comfortable. Using cross sections inspired by these very early rings, a ring made just for you will be a gloriously gentle caress on your finger lifelong.
Please contact us to book your consultation for your wedding rings.
An Anniversary to consider
If your wedding anniversary is approaching, think about giving a little attention to your rings. We can give your wedding rings a little careful, tender loving care. A wedding ring is often amazingly resilient, worn continuously everyday, it is bound to gather signs of abrasion, and occasional knocks, We can restore a ring, even a very old ring, to its beautiful former glory.
It is a very lovely and rewarding job to undertake and, should it be needed, we can also skillfully adjust the finger size at the same time. So please don't persevere with a ring that is either too loose or too tight.