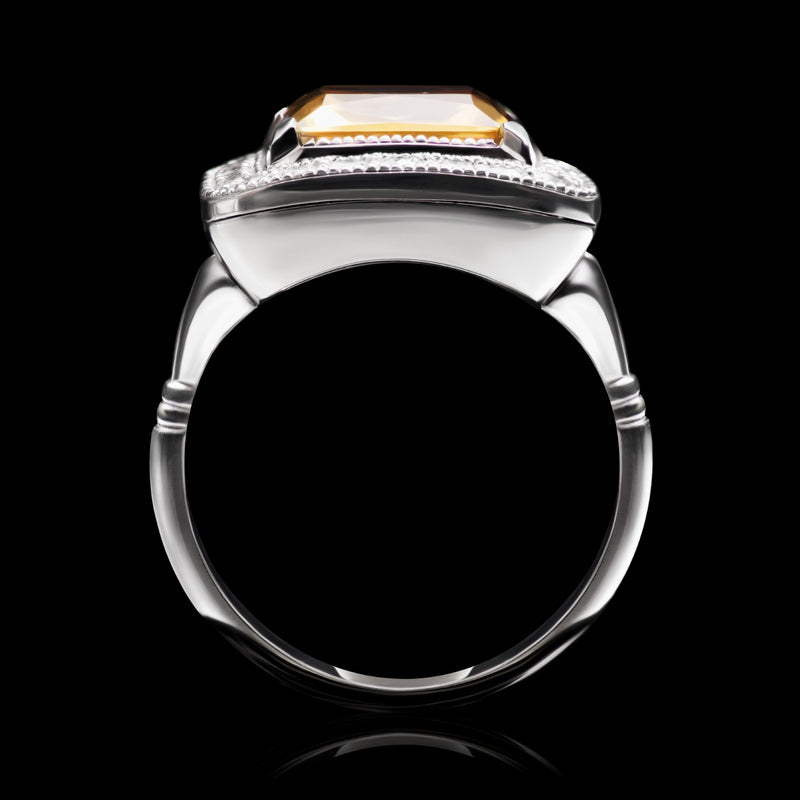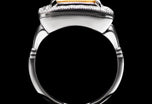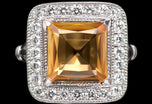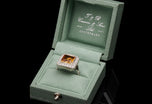 "Citrine Enlightenment." A Golden Citrine & Diamond Cluster Ring
A new way of approaching a very old idea lay behind the making of this ring, together with inspiration from a ring made in the 1820's. Many antique gems were set in enclosed 'drum back' settings that held a burnished silver foil reflector behind the stone to enhance the brilliance of the gem. Over time, with moisture and oxidization, the foil often degraded so that its reflectivity was diminished, thereby reducing the brilliance of the gem. 
In this ring Nigel has taken this ancient principal of a reflector and made it as an opening platinum door built in to the ring which enables both the reflector door panel and the facets at the back of the citrine to be cleaned. This maintains the mirror like flash the reflector provides for all time, ensuring the citrine continues looking splendid and rich in colour.  
The citrine weighs 2.63 carats, with a diamond surround of 24 brilliants all E colour, VS clarity and the ring mount and shank is platinum. The curved inner shape of the underside of the reflector makes the ring very agreeable indeed upon the finger, not just practical and wonderfully comfortable, this ring captures the essence of an antique jewel and is a joy to behold.
Size L 1/2.
Please see The Sapphire twin to this ring. 
Read more
Product Reference: 021 004 0050
£7,267.00